Quality World Globes
Purchasing a high-quality world globe is one of the best decisions you can make. Having a globe in your home lets, you travel the world with your fingertips. It can be a great way to relive all of the beautiful locations you have visited in the past or where you intend to go in the future. 
A globe is also a beautiful object that looks fantastic in your home. If you have kids, it is even more useful. You can use it to teach them about geography, history, science, and other academic topics.
If you are in the market for a high-quality world globe, you have reached the right place. In this guide, I'll be explaining how to choose the best quality world globe and sharing 3 of the best world globes currently available. They are beautiful globes that are well-made and appealing to the eye.
Why Purchase a World Globe?
Is a world globe worth the money? As someone who owns several world globes, I'd say 'absolutely'! World globes can be used in many ways in the home and can be an excellent educational resource. Here are the three main reasons why I would recommend purchasing a world globe.
High-quality world globes are like pieces of art
A good quality world globe is a stunning object that can take pride of place in your home. While cheaper world globes tend are made of plastic, the better quality globes assembled with timber, metal, and even gemstones. 
For example, check out this stunning black onyx gemstone globe. The quality is apparent from its sphere coated in pulverized black onyx mixed with epoxy. It uses 30 different semi-precious gemstones to mark out cities and thin ribbons of polished brass for latitude and longitude lines. It is an incredible piece of art that would look fantastic in any home.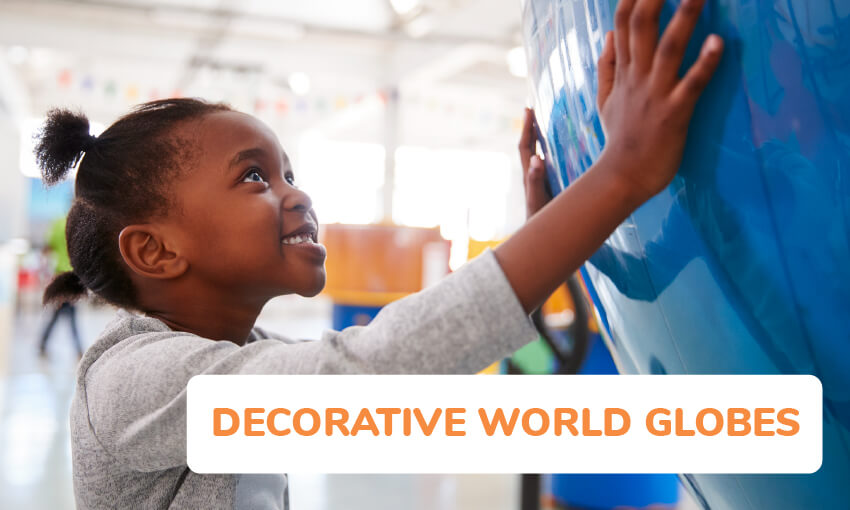 The perfect way to teach children
A world globe can is an interactive educational tool for children. It can teach them the locations of countries and cities, where historical events took place, where individual animals live and much more. Globes can trigger curiosity in children and help you share your knowledge about the world.
A way to bring friends and family together
If you love traveling, you can use a world globe to reminisce with friends and family about the places you have been. You can trace your finger along the route you took while telling your loved ones about the great adventures you have enjoyed. Kids can use the globe to find the locations that they are reading about at school or which interest them somehow.
How to Choose The Best Quality World Globe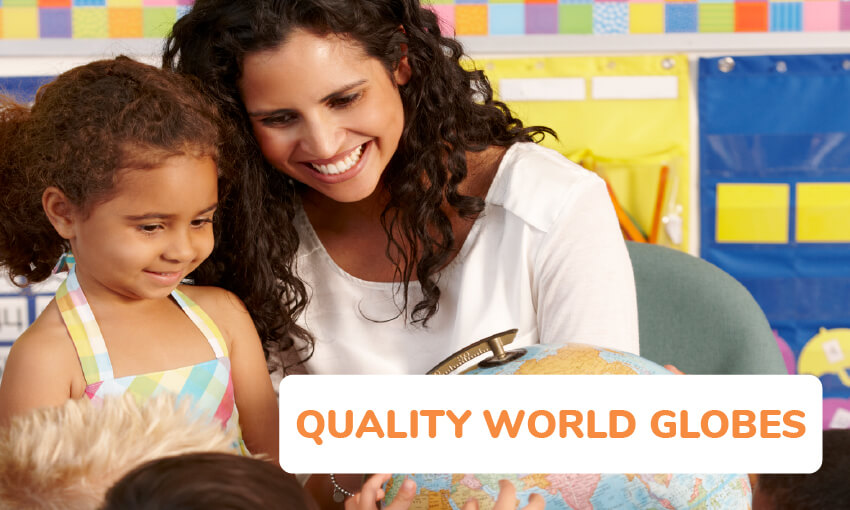 Here are several considerations to keep in mind as you select a world globe.
The Globe's Purpose 
Before you begin evaluating the available world globes, pause for a moment, and consider your reason for buying a globe. Is the globe for a young child who is learning about geography for the first time? They would benefit from a globe that only displays a limited amount of information, like country names, capital cities, and latitude lines. A smaller globe could easily convey this kind of information.
If the globe is for an adult, who wants to use it as a reference, purchase a larger one as it will contain more detail. Globes that are 12-inches in diameter or larger can include thousands of location names, geopolitical boundary markings, mountain names, and other geographical markers.
If you want a globe to make your home more attractive, look for a larger one that you find visually appealing. Just keep in mind that some decorative globes may not have as many location names on them or will intentionally use older names for locations. If your globe is missing valuable information, it will make it unsuitable for educational use. 
Accuracy 
The world is an ever-changing place, and it is typical for countries, cities, and other localities to change their name. Some countries do it more frequently. Take Bangladesh, for example. Bangladesh has once known as Eastern Bengal and Assam, then East Bengal (1947), then East Pakistan (1955) and finally, Bangladesh (1971). In 2018, Swaziland became known as Eswatini, and a couple of states in Bangladesh changed their names.
If you intend to use the globe for reference, it is vital that it accurately reflects any recent changes. It's also worth checking that the manufacturer guarantees the accuracy of the globe and that there are no missing names or mistakes printed on it.
Age Suitability
If you are purchasing a world globe for yourself, it can be as detailed as you like. However, if you are interested in using the globe to teach your child about history or geography, you may be better off choosing a more straightforward design. You will find it easier for your child to see country and city names when using the globe. 
Size
As mentioned previously, larger world globes are capable of conveying more information. However, before purchasing a large world globe, you should consider how its size will impact its usability. A bigger world globe will take up more space in your home, be heavier, and may be harder to spin. Larger globes also tend to be more expensive. 
Assembly
Larger globes that come with stands require a small amount of assembly. Generally, it is as simple as inserting a few screws. However, if you don't like assembling anything, keep this in mind.
Stand
There are a variety of world glob stands. The simplest and most common type of stand has a flat base and curved stand that attaches to the top and bottom of the globe. More expensive world globes tend to have larger stands with multiple stand legs or a pillar. This beautiful world globe has a three-leg stand, while this one uses four legs. This globe uses a pillar design.
The stand you choose should also take into account where you would like to place the globe and how much room it should take up. If you are purchasing a very expensive world globe, you would probably want it to take a prominent place in your home. In this case, having a larger stand would be beneficial.
Color 
In most cases, world globes will have blue oceans and countries in several distinctive colors. You can find globes that are designed to look like antique paper maps, colored using natural materials like gemstones, or bright primary colors. Bright colors will make it easier to pick out countries. If your primary reason for purchasing a world globe is to decorate your home, choose a color palette that is suitable for your home's design aesthetic.
Weight
Most world globes are quite lightweight. You can easily carry it around and won't require much support. However, some expensive or antique globes can use heavier materials, which may increase their weight. Where will you place the globe? Will you have help setting it? Consider these questions before buying a heavy globe.
Cost
Your final consideration should cost. High-quality world globes start at about $60 and can go up to several hundred dollars. Expensive globes tend to made from higher quality materials, are more accurate, and very attractive.
The Best Quality World Globes
We have taken a close look at the world globes currently on the market and chosen three globes that stand out from the crowd. These products are all extremely well-made, beautiful to look at, and a real pleasure to use. They will provide you with many years of use and be an excellent educational resource for the children in your family.
Waypoint Geographic Ambassador Illuminated Globe
Decorative Globe: Our Ambassador II Illuminated Globe comes with a subtle elegance that makes it an excellent choice for anyone who wants to add a touch of style and sophistication to their home or office without sacrificing practicality or durability
Up-to-Date Globe: Our beautiful globe measures 12" in diameter and features a detailed political map of the world, as well as topographical features and oceanography. The stunning and informative globe is the perfect reference tool for everyone
Last update on 2023-12-07 / Affiliate links / Images from Amazon Product Advertising API
This affordable 12″ world globe is extremely well-made and features an attractive design. It is suitable for use as a reference globe as it includes the locations of over 4,000 cities, boundaries, mountain ranges, oceans, and other points of interest.
The Ambassador II has a stunning dark cherry two-tier wood base. Attached to this base is a numbered bronze-colored meridian, which makes it simple to find the meridian of different locations on the globe. This globe has a very stable and attractive base, which helps to give the globe an antique feel. One of the main components is acrylic, making it durable.
One exciting feature of this globe is the internally mounted LED bulb. When turned on, the bulb makes it easier to read the cartographic features on the globe. It also improves its appearance, which is useful if you are using the globe decoratively.
The political boundaries on this globe are updated every production cycle, so you are assured of getting a globe with accurate labels. The level of cartographic detail in the oceans is particularly good on this globe, which makes it useful for anyone interested in major oceanic landmarks.
The stand and globe measure 16.5 "H X 13.5 "W X 12" D, making it the perfect size for a large desk, shelf, or bookshelf. I would recommend this world globe for the classroom or home office. 
Last update on 2023-12-07 / Affiliate links / Images from Amazon Product Advertising API
This is a genuinely spectacular floor-standing globe that features a unique design. It is a handcrafted product manufactured with incredible precision and care.
The oceans on this globe are made from crushed pearls. The pearls pulverized and coated in an epoxy resin. Countries constructed from over 30 different semi-precious gemstones that have been individually cut and ground to form interlocking country shapes. The gemstones set into the globe with incredible care and attention to detail.
The globe includes lapis lazuli, tiger's eye, mother of pearl, amethyst, African jade, jasper, turquoise, purple quartz, onyx, abalone, green marble, and many other beautiful natural stones. It takes talented artisans over 2,000 hours of labor to shape, polish, and insert the stones into the finished globe.
Enjoy the beauty of a frame made from heavy zinc metal that is gold coated. It is is a beautifully polished frame that perfectly compliments the globe, making it resemble a piece of art instead of a simple world globe. The only drawback to this stunning piece is that it does not contain as much detail as a reference globe. There are fewer cities, oceans, mountain ranges, and points of interest listed compared to other products.
Sale
Last update on 2023-12-07 / Affiliate links / Images from Amazon Product Advertising API
If you are looking for an impressive, accurate, and attractive globe, check out this product from Advantus. It is a large 12″ world globe that would be perfect for sitting on a desk, bookshelf, or coffee table. It features 1,000's of reference points, including countries, provinces, oceans, and topographical features.
The Advantus Desktop Globe comes with an attractive and highly durable silver-finish metal base. It also has a silver finish meridian indicator which makes it easy to find the coordinates of different locations.
The globe uses various shades of blue to indicate the depths of bodies of water, with mountain ranges, forests, and grasslands also being colored to make them stand out. The countries are one of several different colors, including orange, yellow, green, and pink, which makes it simple to point out geopolitical boundaries. Combined, the stand and the globe combined measure 12″ W x 15″ D x 13″ H.
The accuracy of this globe would make it suitable for use in a private residence, university, school, library, or any other academic location. It is an impressive globe that is perfect for teaching children history, geography, and other subjects. The best part is, the Advantus Desktop World Globe is affordable, which makes it an excellent choice for a child's room.
There you have it, 3 of the best quality world globes. You cannot go wrong with any of them. Make sure you check out our best printers for teachers review and our best backpacks for teachers.