Learning Tablet for Toddlers
Learning tablets are powerful electronic devices that help children learn more about the world and their place within it. They can contain dozens of different educational games, books, and activities that can keep a toddler busy for many hours.
But which learning tablet should you buy? This guide will take a closer look at learning tablets, explaining how they work and what features to look for when buying one. We'll also identify the best learning tablet for toddlers this year.
Contents
What Are Learning Tablets?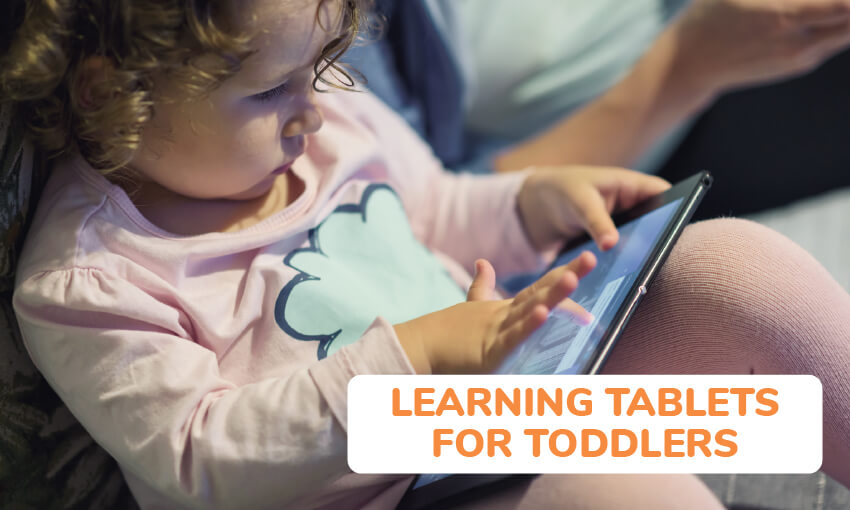 A learning tablet is a mobile computing device that can be used for learning. Most learning tablets are cordless, thin, lightweight, and easy to hold. They usually have a touchscreen interface, which makes it possible for young children to control the device only using their fingers.
Learning tablets that are tailored towards toddlers have additional durability as they are often dropped. These kinds of products also use a simpler interface that young children can learn within a few minutes. 
All learning tablets will have several default applications, which usually include video players, music players, games, and eBook readers. Most tablets will also allow the user to install more specialized applications, which allows the parent to continually change the available content on the tablet.
Why Are Learning Tablets Great For a Toddler's Development?
It's no surprise that toddlers love using learning tablets. After all, tablets are exciting, colorful, and entertaining devices that are fun for a toddler to use. However, you will be happy to discover that learning tablets also provide some excellent developmental benefits for children. They include:
There are thousands of apps available
Most learning tablets will give you complete control over the types of apps that are installed. You can load your child's tablet with educational books, online classes, board games, puzzles, lessons, or whatever other material you think they would enjoy. If your toddler becomes bored with a specific application, you can remove it and install something else.  
Tablets are easy to use
You will be amazed by how quickly your toddler learns to use their new learning tablet. Most toddlers are happily tapping their fingers all over the screen and enjoying themselves within a few seconds of picking the device up. It is much easier to use than many other real-world games and activities.
Improved computer skills
Having excellent computer skills has become essential for communicating, learning, and having a successful career. Learning tablets help children build those important computer skills from a very age.  
Children can document their lives
One of the most interesting reasons to buy a learning tablet is that your children will use it to record their lives. Most learning tablets will have video cameras that are capable of taking both videos and photographs. This allows kids to take photos of their trips outside the home, record video diaries, or create funny pictures of themselves. Having this creative outlet available improves their capacity to learn.
A personalized approach to learning
Another great reason to purchase a toddler's learning tablet is that you can customize the kinds of content available on the tablet. You can focus on teaching your toddler the alphabet, maths, science, or whatever topic they are interested in. As they learn more about the world, you can add more topics to the tablet, ensuring they never become bored.
More cost-effective than other forms of media
Although the upfront cost of a learning tablet is higher than that of offline learning tools (books, toys, puzzles, etc.), it will eventually begin to save you money. Offline learning tools are much more expensive than most learning tablet applications. Some learning tablets also give your child easy access to the Internet, where they can learn as much as their heart desires.
Toddlers can keep learning during downtime
Learning tablets are extremely portable, which means they make a great activity on road trips or other outings. Instead of staring out the window or complaining about the weather, your toddler will be fully engrossed in their tablet as they learn about the world.
Choosing The Best Learning Tablet For Toddlers
The children's tablet market has grown at a rapid pace over the past several years. As a result, there are now many types of tablets available, including products aimed at children in very specific age ranges. 
It can often be difficult for parents to choose the best learning tablet for toddlers because each product has so many different features and technical specifications. To help you make a decision, here are a few important factors to keep in mind:
Screen size
Screen size is one of the important considerations when it comes to choosing a tablet. Children's learning tablets range from about 7 inches (Amazon Fire Kids Edition) all the way up to 12.9 inches (iPad Pro). 
Having a larger screen makes for a better viewing experience as it is more immersive. The downside is that a larger device will be heavier and more difficult for a child to handle. Larger devices also tend to be more expensive.
Resolution
Another important factor relating to the device's screen is its resolution. Screen resolution is how many pixels are used to display the image. In simple terms, the more pixels used, the higher the quality of the image that is displayed. However, higher-resolution devices are typically more expensive. 
Operating System
Most tablet devices use iOS, Android, or Windows Phone operating systems (OS). These platforms are all very stable, fast, and easy to use. However, if you already have other devices in the home that are running on one of these operating systems, it can often be better to remain in that ecosystem. 
For example, if you have a home filled with iOS devices, choosing an iOS tablet can make your life easier. You will already understand how to use it, install apps on it, and transfer files to it. If your children are already familiar with a particular operating system, they will also learn how to use their new tablet faster.
Available Apps
The types of apps that can be used on learning tablets can vary greatly. The cheaper tablets may only have a limited number of applications available. More expensive products like the Apple iPad and Amazon Fire HD will have thousands of apps available (over 2.1 million in Apple's case). These sophisticated tablets can be used for everything from playing movies to doing your taxes!
Usability
Learning Tablets can vary substantially in terms of their complexity. Because you are purchasing the tablet for a toddler, you really need a tablet that is extremely simple to use. Ideally, your child should be able to easily turn the tablet on, find the application they want to use and switch between applications. 
This means it should have a simple user interface with large buttons that are easy for a toddler to press. If the tablet is more complex and difficult to use, you will have to spend more time helping your child turn it on, open applications, and change various settings.
Parental Controls
Parental controls are designed to prevent your toddler from using the wrong kinds of apps or websites. These the extensiveness of these controls can vary between products, so check that the tablet has the parent control functionality you need.
Storage
Learning tablets will have a certain amount of storage, which determines how much media can be stored to the device. The amount of storage will be measured in gigabytes, with most products having somewhere between 8 to 128 gigabytes available. If you will be installing many apps or recording videos and photos, opt for a tablet with more storage.
Battery Life
Most learning tablets use lithium-ion batteries. They are powerful batteries that can power a toddler's learning tablets for anywhere between 5 and 10 hours before needing a recharge. Devices with high-quality batteries that are larger in size will have longer battery life. However, they will also make the device more expensive and heavier.
Tablet Protection
Toddlers are still learning basic motor skills and often struggle to carry items without dropping them. This is obviously a problem if you are giving them an expensive learning tablet to play with. That's why some products come with additional protection for the device like rubber bumpers and screen protectors. If your child is particularly accident-prone, it is essential to buy a device that comes with some form of protection. 
Accidental Damage Warranties
Some manufacturers will offer affordable extended warranties that cover accidental damage. These warranties can be very useful if you have a child who tends to throw their toys around.
5 Best Learning Tablets for Toddlers
Amazon Fire HD 8 Kids Edition
Last update on 2023-06-08 / Affiliate links / Images from Amazon Product Advertising API
Amazon is one of the leading manufacturers of children's learning tablets. Their products are affordable, durable and easy for kids to use. They have developed a complete ecosystem with all of the movies, books, games, and puzzles that you might want on a toddler's learning tablet.
The Amazon Fire HD 8 Kids Edition is one of the company's most powerful tablets. It features a huge 8" high definition screen with 1280 x 800 resolution. In terms of technical specs, the Fire HD 8 has 32 GB of storage, up to 10 hours of battery life, dual stereo speakers, 2-megapixel front/rear cameras, a Quad-core 1,3 GHz CPU and 1.5 GB of RAM.
This tablet comes with an extremely durable kid-proof case and a 2-year accidental damage warranty. This makes the Amazon Fire HD 8 Kids Edition perfect for even the roughest toddler. 
This product is also one of the best products in terms of content. The Amazon FreeTime Unlimited subscription package gives kids access to more than 20,000 educational apps, TV shows, games, audiobooks, and ebooks. This content can be downloaded onto the device, so it can be accessed even when wifi isn't available. The simple user interface is fantastic for toddlers, as they can easily find their favorite content.
The parental controls are powerful and extremely easy to use. You can even block access to videos and games until certain educational goals have been met. The Fire HD 8 also comes with a kid-safe browser, so they won't stumble upon unsuitable content online.
Pros: 
Excellent display
Plenty of great content is available
Fantastic parental controls
Exceptional battery life
Extremely durable
Cons: 
FreeTime costs between $2.99 and $4.99 a month
More expensive than some other toddler's learning tablets
LeapFrog LeapPad Ultimate
Last update on 2023-06-08 / Affiliate links / Images from Amazon Product Advertising API
The LeapFrog LeapPad Ultimate learning tablet is an extremely durable product that is packed full of features. This product does a particularly good job of supporting active learning, which is learning through activities like games, puzzles, and media.
It's no surprise that LeapFrog is very good at manufacturing toddler's learning tablets, given their many years of experience in the educational electronics sector. The LeapPad is one of their best products, as it provides hundreds of learning opportunities in an affordable device that is built to a high standard.
The LeapPad features a 7-inch shatter-safe screen with a resolution of 1024 x 600. The screen is surrounded by an energy absorbing, wrap-around bumper to help the device survive being dropped. 
This tablet includes free access to over 1,000 learning games, eBooks and videos — enough to keep a curious toddler busy for several years!  It also includes a kid-safe browser which ensures that your child is only exposed to kid-safe content.
The best thing about the LeapPad is that it is designed with education in mind. Unlike some other tablets, it isn't all about games, movies and other forms of entertainment. The LeapFrog curriculum helps children improve their logic, reading, and math skills at a very young age.
One downside of the LeapPad is that it relies upon cartridges to play certain games. This is an additional expense if you want to add more games to the tablet. However, it does have WiFi, which allows children to play online games.
Pros: 
Education focussed
Excellent parental controls
The bumper is very durable and keeps the screen safe
Lightweight
Cons: 
Uses cartridges for some games
Short battery life
Small onboard storage
Amazon Fire 7 Kids Edition Tablet
Last update on 2023-06-08 / Affiliate links / Images from Amazon Product Advertising API
The fact that Amazon has made this list twice is a testament to the incredible educational tablets they have been making in recent years. The all-new Amazon Fire 7 Kids Edition tablet is more affordable than the Fire HD 8, but still contains many of the same excellent features.
It features a 7" screen with 1024 x 600 resolution, which is only marginally inferior to the Fire 8 HD's screen. The Fire 7 Kids Edition Tablet also has 16GB of storage, super-fast Quad-core 1.3 GHz CPU, 1GB of RAM, mono speaker, microphone, and dual-band WiFi — very impressive given its reasonable price.
Similar to the Fire HD 8, this tablet can access Amazon's FreeTime Unlimited service. This provides access to over 20,000 books, movies, TV shows, games, and apps perfect for kids between the ages of 3 and 12. It also has a child-safe web browser and can connect with services like Netflix and PBS kids.
Pros: 
Plenty of great content is available
Great parental controls
Huge bumper provides it with excellent durability
Great value-for-money
Cons: 
FreeTime costs between $2.99 and $4.99 a month
Samsung Galaxy Tab E Lite Kids Edition
No products found.
The Samsung Galaxy is one of the world's best selling phones and tablets. This version of the Galaxy has been tweaked to perfectly suit the educational needs of toddlers and children. 
It is a 7-inch tablet with a bright 1024 X 600 resolution screen. The screen is kept safe by the thick bumper case, which protects it from drops and spills. Other features include 8GB of onboard memory (expandable with SD card), strong parental controls, rear-facing camera. The battery remains charged for up to 9 hours.
It comes with over 20 kid-friendly apps that will allow your child to access thousands of kid-friendly ebooks, videos, songs, games, and puzzles. It also comes with a free 3-month subscription to 'Samsung Kids' which includes access to premium content from famous studios like DreamWorks Animation, Sesame Street, and National Geographic.
However, the real strength of the Galaxy Tab E Lite Kids Edition is that much of its content aligns with STEM and Common Core curriculums. This helps the tablet remain useful as your child enters elementary school.
Pros: 
Long-lasting battery
Strong parental controls
Huge bumper provides it with excellent durability
Content targeted at STEM and Common Core
Cons: 
Dragon Touch Y88X Pro 7 inch Kids Tablet
Last update on 2023-06-08 / Affiliate links / Images from Amazon Product Advertising API
The Dragon Touch Y88X Pro is a very affordable learning tablet that comes with a variety of excellent features. Among those features is a bright 7-inch screen with a respectable 1024 x 600 resolution. This is a very high-quality screen for a product in this price range.
This tablet is running on the latest Android 9.0 operating system with a 1.5GHz Quad-core processor, 16 GB of internal storage, and 2 GB of RAM. This combination ensures that the tablet's performance is extremely fast. A microSD slot allows you to add an additional 128 GB storage capacity, which will be useful for holding the many videos and photos taken using the tablets high-quality cameras.
The Dragon Touch Y88X Pro comes with 18 Disney storybooks and 6 audiobooks. They include some of Disney's most popular content including Frozen, Beauty and the Beast, Brave, Cars, and Finding Nemo. It's also simple to access thousands of additional age-appropriate apps including games, lessons, ebooks, and videos. This tablet can also be used to access content from Netflix, ABC mouse, Youtube, and other content providers. 
Pros: 
Extremely durable
Best value-for-money
High-performance operating system and hardware combination
Available in multiple colors
Cons: 
Screen scratches more easily than other devices
Very short battery life
There you have it, some of the best learning tablets for toddlers. If this is a gift for your toddlers birthday, make sure to check out our toddler party game ideas.