Best Laser Tag Guns
Laser Tag is an action-packed game that can provide hours of fun for children and adults alike.  It is a competitive game that is exciting and quite challenging to play.  It requires good aim, physical fitness and the ability to think strategically.  These elements combine to make it highly addictive!  
If you buy your own laser tag guns, you can play laser tag virtually anywhere — in your home, in your yard, at the local playground, or in nature.  If this sounds like a great idea, you have reached the right place.  This guide will showcase the 5 best laser tag guns on the market. We'll also share some tips for choosing the best laser tag gun.  Jump straight to the best products or read on to learn more.
Why is it a Great Activity For Kids?
Here are a few reasons why laser tag is such a great game for children:
Laser Tag Gun Buying Guide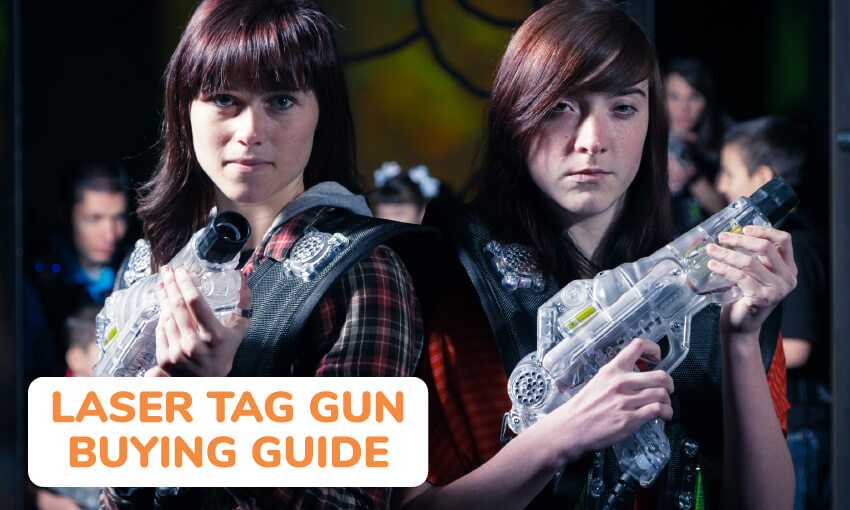 Laser tag guns have become much more advanced in recent years.  They now have more features and options than ever before, which makes choosing the right one a little more difficult.  There are several considerations to keep in mind when choosing to buy a laser tag gun including:
1. Laser tag gun durability
The majority of laser tag guns are made from durable plastics that are reinforced with composite materials.  However, the price of the gun will often determine the quality of the materials being used.  More expensive guns tend to use more durable components put together using more advanced construction techniques.  
The quality of the materials being used to make the laser tag guns is particularly important if children are using them.  Children can be very rough with toys and are likely to drop their gun at some point.  A high-quality laser tag gun will handle being dropped on a hard surface while cheap ones will shatter easily.
3. Laser tag gun performance
When it comes to the performance of tag laser guns, the main consideration is battery performance.  Cheaper laser tag guns will run out of charge faster and may take longer to charge.  This means your laser tag battles may not be able to go on as long if you have laser tag guns with poor quality batteries – and who wants to spend a lot of time charging guns when you could be playing!  
The other major consideration to keep in mind is how accurate your laser tag guns are.  Better quality guns with have good accuracy, reliability, and range.  Cheaper guns may begin to be inaccurate at certain ranges, which can be frustrating if you are playing a very close competitive game.  If you intend on playing outdoors, look for a laser tag gun with excellent range.
4. Laser tag gun features
There are several types of features available on laser tag guns:
Settings
Modern laser tag guns often have settings that can be tweaked.  The most basic settings include a power button, trigger, speaker, and reload button.  Some guns come with additional settings like ammo and health displays which let you know how well you are doing.  This makes it easier to tell how injured you are and how much ammo you have in the middle of an adrenaline-packed firefight. 
Fire modes
The most basic laser tag guns will only have a single firing mode.  However, the better guns will have multiple modes, allowing the weapon to be used as a pistol, assault rifle, shotguns, and rocket launchers.  Having additional firing modes adds some more complexity to the game as players decide which mode is most effective at hitting the enemy at a certain range.  
Sounds effects
Sound plays a big role in laser tag.  It helps you know when you have fired, what kind of rounds you are using and when a target has been hit.  Having a blaster with a variety of sound effects available makes shooting more satisfying and can make the game more enjoyable.  Some laser tag guns will also have voice samples and triumphant music that plays as you compete, which can be quite fun. 
5. Ease-of-use
If you are buying laser tag guns for your children, consider how easily they will be able to use the guns.  If they have complex designs with lots of buttons, will they be able to choose the right setting?  Is the gun too big for them carry?  Will the design be difficult to use?  If you are purchasing a laser tag set with vests, do the vests look comfortable to wear?  Will they get in the way of the kids when they running around?
6. Construction style
Laser tag guns come in many different designs, including classic retro-style guns, Star Trek-style tasers, thumb-trigger blasters, basic pistol designs, and assault rifles.  You should choose a style that your children will love the look of and find easy to use.   
7. Number of blasters
It's rare to see a laser tag gun sold individually.  Most products come with two to four guns and vests.  Buying them this way is usually more cost-effective and ensures you have enough weapons available for the participants.  When making a purchase, think about how many guns are included and how many you might need.  
Even if you only have two children who will be playing, it's often a good idea to get a set of four guns so their friends can join in when visiting.  After all, laser tag becomes even more fun when more players join in!
8. Laser tag gun price
Of course, the final consideration will be price.  Ideally, you should find a laser tag set that has all of the features you require, including a great design and a high level of durability at a reasonable price. 
The 4 Best Laser Tag Guns
We have handpicked the 5 best laser tag guns currently on the market. These guns are durable enough to handle rough treatment by children, have some great features and are surprisingly affordable!
ArmoGear Infrared Laser Tag Blasters and Vests
Sale
ArmoGear Laser Tag – Laser Tag Guns with Vests Set of 4 – Multi Player Lazer Tag Set for Kids Toy for Teen Boys & Girls – Outdoor Game for Kids, Adults and Family – Ages 8+
AUTHENTIC LASER TAG GAME 🔥 Turn your home or backyard into a laser tag arena with the ArmoGear laser tag gun set, the most advanced set of laser tag guns out there! No other laser tag set has real TARGET VESTS, INVISIBILITY MODE, NIGHT VISION FLASHLIGHT, VOICE-GUIDED DIRECTIONS, and an extreme 150 FT SHOOTING RANGE!
AUTHENTIC LASER TAG GAME 🔥 Turn your home or backyard into a laser tag arena with the ArmoGear laser tag gun set, the most advanced set of laser tag guns out there! No other laser tag set has real TARGET VESTS, INVISIBILITY MODE, NIGHT VISION FLASHLIGHT, VOICE-GUIDED DIRECTIONS, and an extreme 150 FT SHOOTING RANGE!
Last update on 2023-12-03 / Affiliate links / Images from Amazon Product Advertising API
This high-quality laser tag set consists of four blasters and four vests, which is everything you need to enjoy many hours of laser tag fun.
The laser tag guns are extremely durable and designed to tolerate rough handling by excited kids.
Their premium quality build should provide you with years of uninterrupted usage.
The four blasters use infrared and achieve a 150-foot shooting range which makes them ideal for outdoor play.  These are very accurate blasters, which makes them useful for fast-moving play.  Each blaster can be used with or without a vest, which is handy if you don't want to be encumbered by a vest while playing.  
Some of the great features on each blaster include an invisible mode (no lights on blaster), a night vision flashlight, voice directions, exciting flickering lights, and tactile vibrations.  These blasters also benefit from an ergonomic design that feels comfortable in the hand.  Kids from 5 and up should have no problem handling them.  
Players have the option of selecting one of four shooting modes – pistol, shotgun, machine gun, and rocket.  Each mode has a different rate of fire, ammo usage, and damage component which adds to strategic play.  Check out the ArmoGear Infrared Laser Tag Blasters and Vests.
---
Nerf Official: Lazer Tag Phoenix LTX Tagger 2-pack
This is the perfect product for young children who are just getting into laser tag for the first time.  It is a complete system that includes 2 Phoenix LTX laser tag blasters that are compatible and interchangeable.  This means you can add more pistols to increase the number of players and they will work immediately.  
It's possible to play in team mode or free-for-all team deathmatch with the Phoenix LTX blasters by flicking a switch.  These blasters are perfect for both indoor or outdoor play as they remain accurate at both short and long distances.  
Perhaps the best feature of the Phoenix LTX laser tag blasters is its wide range of sound effects.  It sounds very satisfying to shoot these blasters because of the high-quality shooting sounds, recoil effect, and light that appears when a hit lands.  There is also a vibration that occurs when you are shot by the enemy, which adds to the excitement.  
One great addition to these pistols is the "shield" mode.  It gives players protection for a few seconds and any fire that you receive during this time will trigger a ricochet sound from the pistol.
These blasters use a class 1 LED, infrared light, so no vest is required.  Players can set their blasters for 10 or 25 hits, which means you can make getting a kill harder for more advanced players.  View the Nerf Official: Lazer Tag Phoenix LTX Tagger 2-pack.
---
Dynasty Toys Family Games Laser Tag Set and Carrying Case
No products found.
This is an affordable option great for people who are curious about laser tag but don't want to spend too much money.
This kit comes with two T1504 blasters.
They are well-made infrared blasters with a 120 feet range, which makes both indoor and outdoor play possible.
Similar to the other blasters reviewed, these blasters can act as a target, which means no vest is required.  This is a particularly useful feature for young kids who don't want to be slowed down with a vest.
The T1504 blaster comes with 4 separate blaster settings, with different strengths and weaknesses.  This blaster also allows the player to tap the butt to reload and has a health display on the side of the weapon.  View the Dynasty Toys Family Games Laser Tag Set and Carrying Case.
---
Lukat Laser Tag Gun Set 
Last update on 2023-11-05 / Affiliate links / Images from Amazon Product Advertising API
This highly rated laser tag set comes with 4 pistols along with 4 target vests.
Similar to some of the other products reviewed, these pistols have 4 firing modes – pistol, shotgun, machine gun, and rocket.
Each firing mode has a different ammunition capacity, damage, and reload time.
It's up to the player to choose the right mode for their situation.
Each laser tag gun is made from thick, durable plastic with solid components.  This design will handle rough and tumble from young kids easily.  These pistols have an excellent speaker system which delivers some solid weapon firing sounds.  The ergonomic handles are a pleasure to use and suitable for kids as young as 4.  It's a great family set that combines quality with affordability.  View the Lukat Laser Tag Gun Set.
---
Thanks for reading 4 Best Laser Tag Guns.  For more product reviews, subscribe to the site.